Features-old
What is UV-Packer?
UV-Packer is a plugin for Autodesk 3ds Max. It is a "one-click" solution for packing all your UV maps by calculating their sizes and proportions, and distributing them optimally on the UV pane. You no longer need to spend hours moving, rotating and scaling your maps in order to utilize the whole mapping area – UV-Packer does it for you in a second.
Advantages of UV-Packer
In a vibrant and stressy job of a modern 3D artist there is nothing worse then losing time on repetitive and boring manual works. Just imagine how many more crazy artworks and awesome designs you could design if there were no such things like dragging, rotating and adjusting parameters which should be actually done by the machine. The designers and developers of 3d-io offer you herewith a small yet fast and exact utility to save hours and days of your work on UV Maps. UV-Packer does what you can't: it calculates the perfect quadrature of your maps, scales them and put the pieces together in mathematically exact way no human would ever be able to process.
UV-Packer not only moves and rotates your UV parts, it also takes the mesh surface area into account and scales the parts independently to provide a uniform pixel distribution. Your models will never again have different texture sizes and therefore varying amounts of texture quality on legs, arms and body textures, since UV-Packer keeps them all even.
What is new in UV-Packer 2?
Key features of the new version:
UV-Packer 2 offers 3D Artists instant and optimal UV packing in self-customizable UV tile sets. Artists can now easily control the number of UV tiles, automatically generate material IDs for each UV tile or unwrap the UV tiles according to material ID settings. This is especially useful for Mari, Mudbox or ZBrush workflow.
Compatibility with Autodesk 3ds Max 2018.
New simplified web manageable licensing: UV-Packer 2 comes out with the new online managed licensing system, allowing users to transfer licenses with one click to any other workstation. No more waiting time caused due to time-zones or email requests: you can activate or deactivate the license and move it as you wish.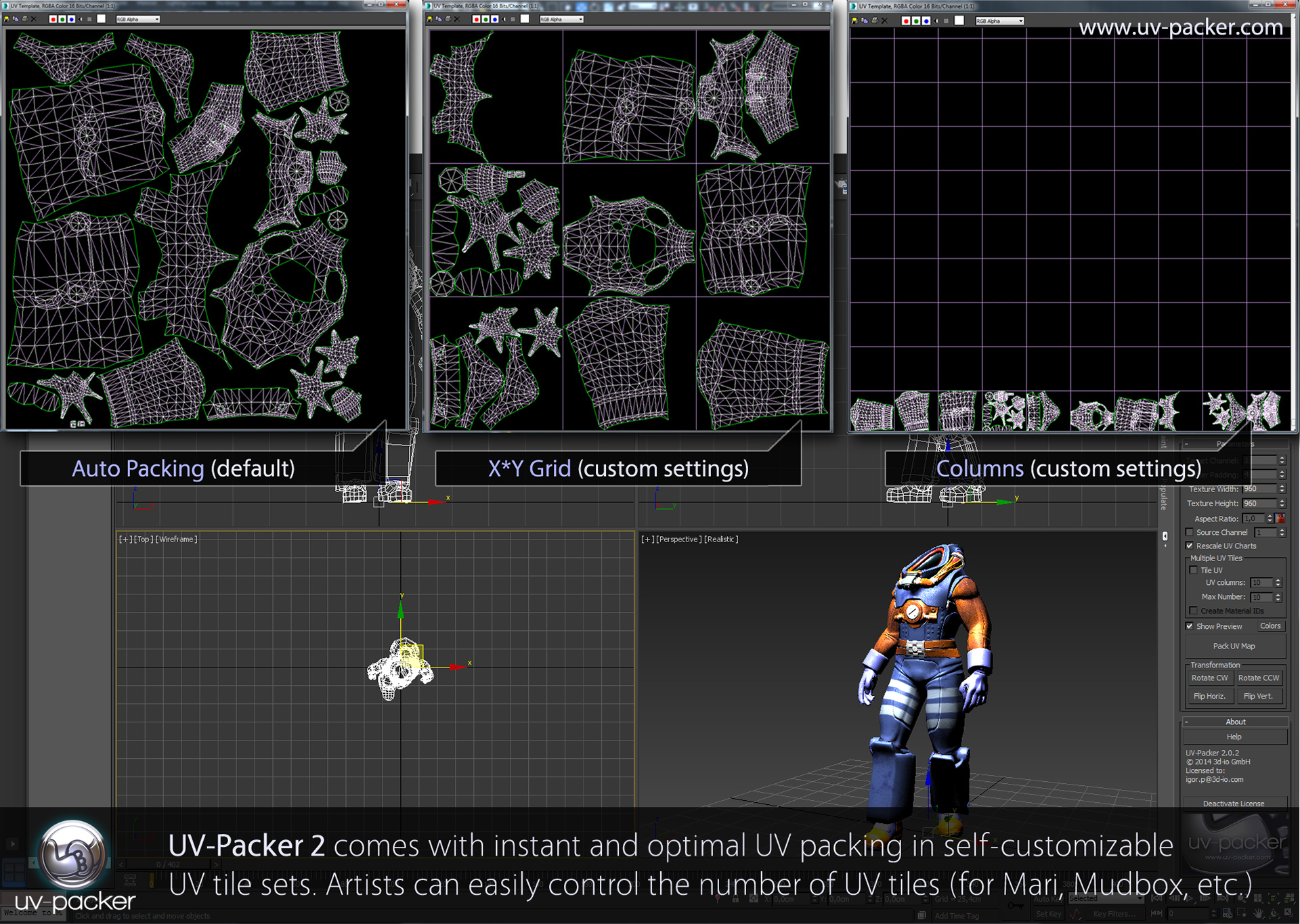 What is new in UV-Packer 2.11?
Key features of the latest version:
UV-Packer 2.11  introduces the massive uv-packing speed improvements. For the heavy polygonal Scenes, with over 100.000 faces and 100 UV-islands where the default 3ds Max UVW packer simply fails, UV-Packer 2.11 calculates the UV-Map in less then a half-minute.
Compatibility
UV-Packer 2 is available now for Autodesk 3ds Max 2010 or above. The update is free for all registered UV-Packer users, a new licence costs € 99,-.