UV-Packer for Blender is a free add-on and program for
3D artists and the 3D industry.
It is an optimal, automated "single-click" UV packing app
for the highest 3D market requirements.
Godspeed.
UV-Packer for Blender accelerates packing to the limits.
The global 3D trends dictate rapid production cycles and heavy geometries.
UV-Packer is unrivalled when it comes to packing thousands of islands and millions of polygons in minimum time.
Automate your Blender workflow
Mechanized process.
Our ideology is simple: in a time where AI paints pictures and cars drive alone, an artist should not have to manually move islands around.
UV-Packer is a one-click answer to the laborious work of UV-packing.
For professional industry demands
Heavy engineering.
UV-Packer for Blender rests on 14 years of engineering for Autodesk 3ds Max. As such it is specifically designed to serve the needs of 3D artists, game studios, arch-viz, photogrammetry, industry and 3D product designers.
Let software crunch, scramble and crush your UV-chunks!
Melee Support.
UV-packing is NOT an art! UV-packing is a huge mess. No one touches it voluntarily, no one likes it. The main purpose of UV-Packer is to grab polygon wreckage, shuffle and shake it, and pack into a box so that it fits perfectly.
Minimalistic GUI- and UX-approach
No Mumbo-Jumbo.
Following the Blender UI directions for convenient workflow, we have designed UV-Packer in a sleek, user-friendly, logical interface. The last thing a creative Artist wants to work with is a helicopter cockpit.
We remain resolutely committed to good, clear and functional usage.
No overlapping, exact padding.
Keep the distance.
It is of utmost importance for 3D artists to pack UV islands cleanly in order to avoid overlaps during the texture baking process. The advantage of UV-Packer in Blender is the precise assessment of padding values.
The space between UV clusters is calculated correctly and exactly distributed over all charts, creating equal distances between all UV clusters.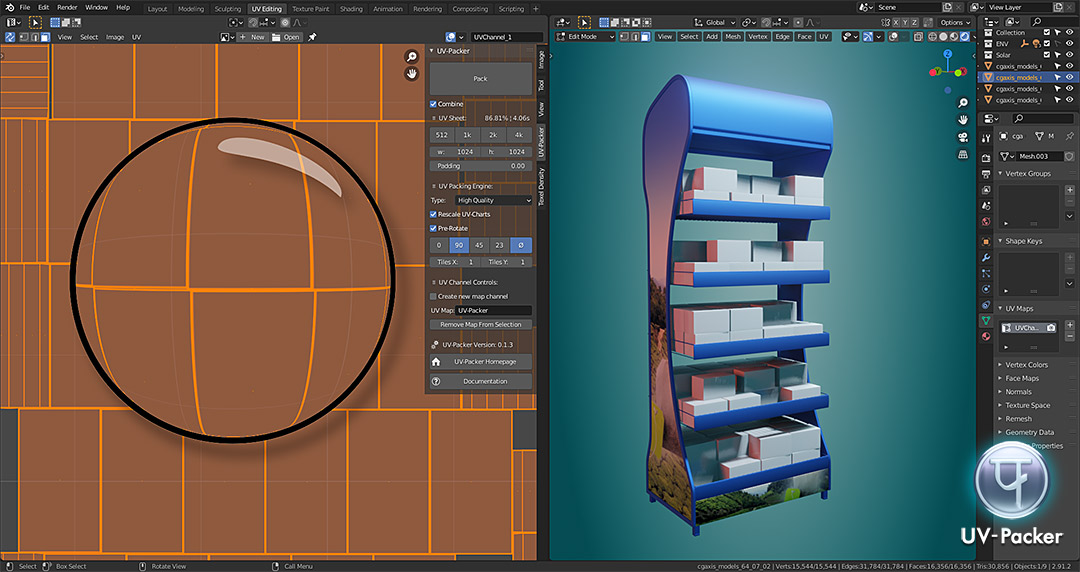 Divide and conquer.
UV-Packer comes with easy-to-understand, automatic UV tiling support for Blender.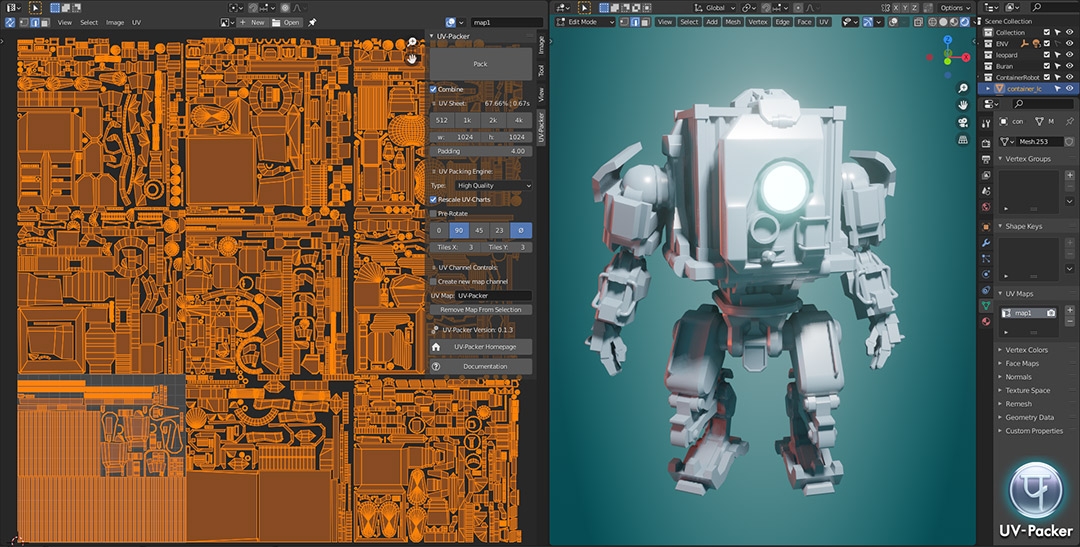 Get it now.
UV-Packer for Blender consists of 2 components that need to be installed separately: The add-on provides the user interface in Blender and the corresponding program performs the packing.
Download Blender Add-On (Step 1)
In Blender, open the add-ons section in preferences:
Edit -> Preferences -> Add-ons
Use the install button and select the add-on zip file you downloaded.
This will install the addon but not enable it.
It will now show up in the list of installed add-ons.
Use the enable checkbox to enable the
UV-Packer add-on.
Download UV-Packer Exe (Step 2)
Extract the downloaded zip file into the directory of the add-on you installed in the previous step.
You can find the path where the add-on is installed by checking the add-on details in the add-on section of Blender's preferences:
Edit -> Preferences -> Add-ons
The "File:" entry points to the script. Put the program into the same directory.
Once the program is in the addon's directory you can use UV-Packer from inside Blender.